Here on Malolo, you can choose to do as little or as much as you like. Whichever tickles your fancy! So when you're not relaxing by the pool sipping on your favourite cocktail, perhaps you could fill your lazy day with something from the list below.
Now before you start reading I need you to know ONE very important thing!
There is a little concept the Fijian people like to call…"Fiji time". It's a way of life. Forget the schedule or arranged itinerary, in fact, you'd better forget the concept of time all together. Who would want to rush or stress when you're in a place as beautiful as this anyway? So embrace the island vibe, don't rush because nobody else will be rushing either...
~ Here, things just flow ~
One.
Witness a Sunrise
I know what you're thinking. Setting an alarm at a time that reads "Before 10:00am on a Vacation?" getting you out of a perfectly good bed? Huh? No way!
But trust me! To get yourself up and out of your villa for a sunrise is one thing the 'late night Kava goers' will not have thought of doing. So whether you're staying in a private resort or an island backpackers, take advantage of this quiet and idyllic time. You'll find peace in the stillness without the daytime boat traffic making engine sounds and waves. You'll also be witness to the incredible displays of colour in the Fijian sky.
Two.
Sandbank Snorkelling
If you can get out to the sandbank for some snorkelling I would definitely recommend it. It's not surprising that this is one of the most popular places for snorkelling in the area as the waters are reputed to be the most turquoise of the Mamanucas Islands. And the rumours are true, the waters were the MOST turquoise waters I've ever seen!
A short boat trip from Malolo will get you to this magnificent location. Once the boat was anchored we threw on our flippers, grabbed our snorkels and waddled over the pristine white sand to the drop off. Snorkelling is one of the best ways to see the beauty of the underwater world here in Fiji. Almost instantly we were surrounded by hundreds of colourful, tropical fish, swimming in large schools all around us! If you're lucky, your tour guide may even bring some bread and you'll have the fish eating right out of your hand!
The sandbank offers much more than just snorkelling. You can hire jet ski's and kayaks or simply sit on the bank and watch the world go by. If you can imagine, this sandbar gives you instant 'island vibes' and boy, can you just sit back and relax.
Three.
Visit the Turtle Rehabilitation Centre on Treasure Island
If you're up for a bit of history and education of Malolo then I suggest an Island hopping tour (see number nine for more detail). On arrival at Treasure Island Resort we met the Resort Manager who showed us around the small island. Half way through the tour we arrived at pool of turtles! Now hold up! If you don't know, I'm a big supporter of the conservation of animals of all kinds. I try to channel that passion into my wildlife photography. So, it gets better. Not only were there turtles I could see up close and photograph but it was a Rehab Centre for the sick and injured PLUS it was a dedicated breeding program to ensure their survival as a breed! Treasure Island is the only resort in the Mamanucas to employ a dedicated and fully-qualified environmental team to lead and run this program and from what I saw, it was running well.
I wish them all the luck in preserving, conserving and protecting these turtles and their habitat.
Four.
Take a boat to Cloud9
If you haven't heard of Cloud9 then read on! This is Fiji's only two level floating wonderland. On board is a fully stocked bar, wood-fire pizzeria, live DJ, lounge chairs and beds for you to relax on the entire time. If you're up for a swim, jump in! Or better yet, head up to the second level where it is 100% encouraged to jump over the hand rails into the stunning turquoise water. This party pontoon has 360 degree, picturesque views with tropical beats until your heart is content. Where would you rather be?
[If you need anymore enticement to go to Cloud9, check out my latest short film below! Three minutes of Malolo Island bliss in which Cloud9 features]
Five.
Scuba Dive
In my opinion, the best way to experience the deep blue sea is scuba diving! Why float on top when you can immerse yourself in this awe-inspiring underwater world. What a unique experience it is to be 15-25m below, swimming alongside these beautiful creatures . Subsurface Fiji offers a large range of courses from beginner to professional levels, providing the opportunity to visit a world of vivid turquoise waters, abundant with beautiful corals and a variety of tropical fish and sharks. That's right, bucket list item ticked! I dived with sharks!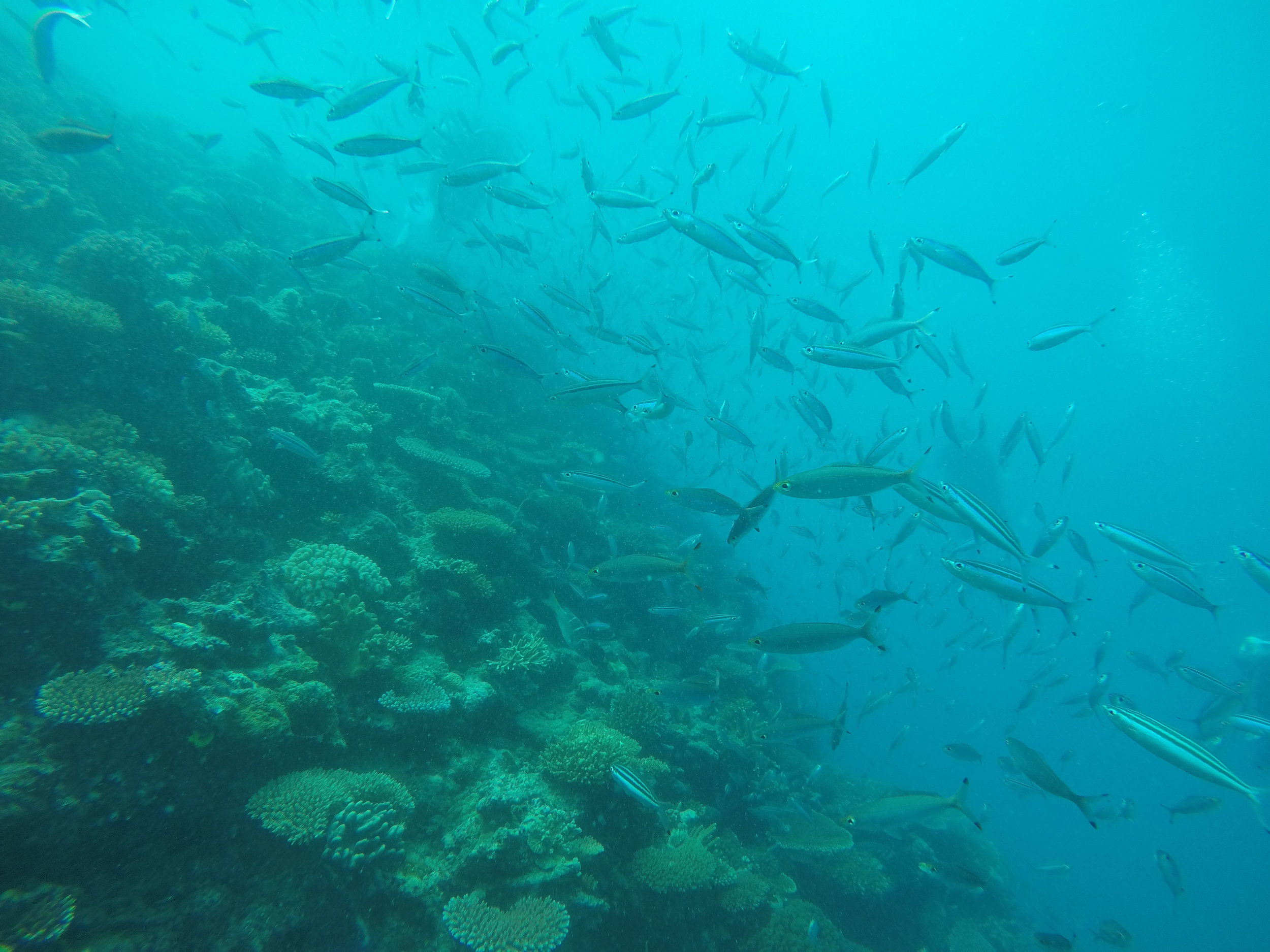 Six.
Kava Ceremony and Bonfire Evening
Dive into Fijian culture and go ahead and take a sip of Kava! Much more than your average activity, Kava drinking is synonymous with life in the South Pacific. It is still very much a part of the Fiji's culture and for some, day to day life. Like most, my resort offered a 'Kava Drinking Night' where the staff spoke of its history, its flavour, its meaning and the position it holds in the proceedings of a traditional ceremony. After the formalities, guests are offered what seems a bottomless bowl of Kava and after a few bowls you start to feel the numbness beginning. This is the perfect time to keep drinking, make a new resort friend and chat the night away.
Seven.
Visit the local Village
Beg your resort to take you to the local Village of Malolo! I personally feel that it's important when visiting a country to see or learn the history and culture of the place you are visiting. Unfortunately the perception of Fiji as a luxury living, resort filled island, is not the whole truth. Fijian culture is one which is rich in history and traditions and is engrained in their daily lives. Welcoming you into their village with open arms, personally introducing you to one of the clan chiefs and getting to enjoy the company of some of the most kind hearted, warmest people, you can be around, will all take only a few hours out of your day and it will be the most humbling thing you do on your trip.
You will be wowed by what what they have been through as a community in the last few years and their current economic situation after Cyclone Winston hit their land, their crops and their homes. While the Fijian economy has come a long way with tourism, there are still many families in remote villages living with very little food, electricity or supplies. There are many small ways to directly support the local community such as taking some time on you tour to buy souvenirs at their beach side stalls, rather than buying them at the airport or on the mainland. There are also many programs in place where you can donate your money when you get home or even throughout your stay. I have never felt more humbled than I did by the happiness and unwavering endurance of these people.
Eight.
Witness a Traditional Fijian Show
On the very last night of my vacation I was witness to such an amazing group of talented people who were intact the staff of my resort. For them to put on a show at this level just amazed me. With men and women both performing Fijian "meke" (tradition dance and story telling) or war cries the show was thoroughly enjoyed into the evening when we were then invited up to dance along side the performers. It was just another great way to get involved with the Fijian culture and meet new people. From that night on I have remained friends with so many of the staff. I totally understand quiet romantic nights in but you never know what amazing person or family you are going to meet on these nights so I suggest a few of them throughout your stay.
Nine.
Island Hopping Tour
Another great activity offered by most, if not all, resorts, is an island hopping tour of the majestic Mamanuca islands. When I heard about the trip, I imagined boating around other islands getting a quick sneak peak from the boat and being back to our resort in under an hour. The reality however was quite different! We did visit other islands, however, we disembarked at each one and were also taken to other island resorts! I loved that there seemed to be no competitiveness between resorts, in fact they almost encouraged exploring them! In one case when visiting Treasure Island we were personally introduced to the Island Resort Manager who continued to take us on a tour and to tell us what his resort offered. I couldn't believe it but I loved it…why not? After exploring this island we went onto several others and had a similar experience with each of them. I couldn't think of a nicer way to discover Malolo's surrounding islands and meet the people who make it all happen for us.
Ten.
Last but not least, my personal favourite; make sure you explore and snap, snap, snap away
You can never have too many memories to take back home!